AMISH DIRECT FURNITURE PRESENTS
The Process of Amish Furniture
Every piece we offer is unique. It can be styled to match your needs. But how do you determine what style matches right? How do you know what wood type is the right one? What different options are you able to choose from and which ones do you need? In this section we go over the process from choosing out the right piece for you, placing your order, build, finishing, and finally having it brought to your home.
Choosing the Right Piece
The beauty of working Amish builders and looking to get Amish crafted furniture is the customizations you're able to do. Each piece of furniture crafted is unique to itself making it one of a kind. There is a drawback though, since there are so many options it can be overwhelming at times and that is where we come into help. Which options are right for me? What size table do I need to sit 8 people? Will my 55″ TV fit on a 55″ wide TV console? What's the difference between a Brown Maple and Hard Maple?
In our FAQs page, we go over some of these questions. Granted, not all of them answered and that is why you're always welcome to contact us. We're always here to help you and more than glad to answer any questions you have.
You Have Everything Picked Out
You've measured twice, looked at some samples and pegged down a color, all that's left is to get your furniture going. In order to have any order get started, all we require is half of your full total and the other half isn't due until your furniture is just about to be delivered to your home. You can check out our Payment Options to see what payment options are available to you. You can also figure out what shipping will be by adding all of your furniture into your cart and enter your state and zip code under Calculate Shipping.
Once you've settled on everything, we overlook your order to ensure everything makes sense for us, our builders, and especially you. The last thing you want is to have your furniture built but built wrong. If everything looks alright, we fax your order out to our builders to have it built.
The Building Process
The building process typically takes anywhere from 4 to 6 weeks. It truly depends on the builder's workload. It could be done as quick as 2 weeks for your furniture to be built. The flip side though is it could take up to 8 weeks to have it built. We try not to bother our builders too much when it comes to this. Every piece is built from scratch and does take time.
We always recommend to call around the 5 week mark after placing your order to get a status of where your order is at. This usually will help give you a good indication on how much longer it will be before you receive your furniture. If we don't see your order at our stain shop by 7 week, that is when we start pulling beards and snapping suspenders asking where your furniture is at.
Finishing it Off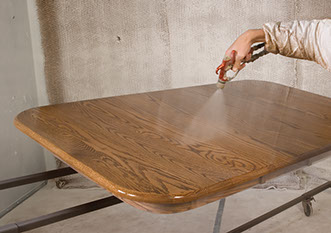 We use a central stain shop for all of our orders. The benefit of doing this rather than letting the builders stain your furniture is every piece will come out looking the same. Even if you have the same color on each piece, each builder might stain it a bit different giving it a possible different look and feel. Having a central stain shop takes that possibility away.
Once your whole order shows up at our stain shop is when the staining process begins. First, your furniture has the stain sprayed onto it with a PSI gun to ensure it gets into the wood. This way if the any dings and dents happen, it will still have the color underneath and not show a obvious light spot.
After the stain is applied the ladies hand wipe everything to ensure there are no drip marks. Ensuring there are no drip marks, your furniture goes back and has the finish applied with a different PSI gun. Again, it gets sent back to the ladies to have it hand wipe it removing any drip marks. Then your furniture is placed inside what is essentially a giant oven. This process is to heat up the finish to a specific degree and have the resin catalyze on itself to create the seamless and durable finish. Once it's finished with this step, your furniture is left to sit for about 2 to 3 days and have the finish settle.
The Home Stretch
Your furniture is now built, finished, and finally ready to take its place in your home. Depending on which shipping option you chose will determine how it get ships out to you. We offer two different type of delivery methods: Curbside and White Glove. There are a couple differences between the two. The first difference is how your furniture is shipped to you. Curbside delivery has the your furniture shipped to your front door. Where as White Glove will have your furniture actually set up inside your home. Price is another difference between the two. Curbside is cheaper than White Glove. Alternatively, you can pick up your furniture at our showroom, free of charge of course.
A common phrase we like to say is: We're only as fast as our slowest builder. We can only get your furniture for you as fast as our builder can build it. Typically though, our average build times are:
Local Customers out of Michigan: 8 – 12 weeks
Out-of-State Customers: 10 – 16 weeks
For out-of-state customers, this time also accommodates shipping time. Though, this still does vary from time to time. On average, our turn around time for local customers is about 10 weeks. For out-of-state customers, the turn around time is typically 12 weeks. These are just estimates however because different variables affect how long it takes for you to receive your furniture.