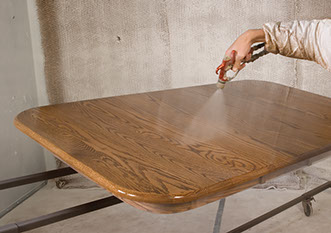 Our finishers use commercial grade stains and spray application to provide the most even and consistent color. To ensure great durability, a high quality, catalyzed varnish is also applied. This varnish has greater adhesion, hardness, and abrasion resistance than standard lacquers. This finishing system not only protects the surface of the table, but soaks into the wood providing additional protection.
Please note we also do not have all stains currently available on each one of our wood types. Over the course of time, we will be adding all the stains we offer on each wood type for you to view. We realize that viewing stain samples online diminishes the accuracy of the colors. If you prefer to choose from a palette of wood samples, we will send you a set so you may view it in person. All we ask is that you mail the sample back to us.
Stain boards are now available for order! Click here to start ordering stain boards today.
Learn more about the different stains, speciality finishes, and paints that we offer by visiting the pages below.